PEACE AND JOY - Woodprints by Linda J. Beeman and Lynita Shimizu 
Exhibit Dates
Sept 14, 2019 - Dec 16, 2019
Jorgensen Gallery
Jorgensen Center for the Performing Arts
2132 Hillside Road
On the UConn campus in storrs, CT

Opening Reception
Sat, Sept 14, 2019, 6 pm
prior to The Piano Guys
 
Fall 2019 Gallery Hours
MWF 10am - 12pm
Tues  10am - 4pm
Thurs  1pm - 4pm
Prior to performances and during most intermissions.


EXHIBIT DESCRIPTION
Using the Japanese techniques of Mokuhanga, Linda Beeman and Lynita Shimizu are two friends whose woodblock prints offer an exhibit of contrast.
 
ARTIST STATEMENT - Lynita Shimizu
I love making woodblock prints. From beautiful paper handmade in the mountains of Japan, to the bamboo sheath wrapped around my hand-held printing disk, this form of printmaking never feels far from nature, my muse.
The division of space and abstract qualities of traditional Japanese woodprints attract me. When planning my own prints, I work to simplify what I'm seeing or feeling. To move from the inspiration of the sketch to the mechanics of the print requires thoughtful organization of color and space. The image is broken apart; different colors are carved from separate blocks of wood. Only after just the right amount of pigment, water and rice starch have been brushed across the wood, and the layers of color have been pressed into the paper, does the image come together again. Every time the paper is lifted from the final block, it feels like magic.
Although my subject matter varies, my goal remains to create images with strength, spirit, and clarity. In a world of challenges, the process of creating a woodblock print provides a peaceful and safe haven. I am so grateful to be a woodblock printmaker and hope some of the joy it brings me, touches others.  
ABOUT THE ARTIST - Lynita Shimizu
Lynita Shimizu, originally from Huntingdon, PA, studied Fine Art at Westminster College and the Chinese University of Hong Kong. Her introduction to Japanese woodblock printmaking began in the Kyoto atelier of traditional master, Tomikichiro Tokuriki in 1974. She later joined a group of printmakers in Tokyo studying under contemporary printmaker, Yoshisuki Funasaka. Today you'll find Lynita in her Ashford studio overlooking a beaver pond at the edge of the Yale Forest.  
ARTIST STATEMENT - Linda J. Beeman
My work shares both a sense of prayer and of environmental responsibility. I am moved by a reverence for for nature that cannot be adequately expressed in English. 
The Japanese word
Kokoro
means "heart; mind; soul; emotions; feelings." The word
Ma
translates as "a pause, a space between or a space yet to filled." An interval. A consciousness of place. It is in this "pause" that the soul finds rest and reflection. It is where I go.
The spiritual connection that I find in the creation of my work is deeply personal and important. My thoughts are towards peace, reclamation and protection. The emotional, physical and spiritual energy I use to create a print somehow becomes imbedded within it to reveal the heart and spirit of a location. 
Creating a sense of stillness and peace and shelter ... the journey of viewing awakens you to the vulnerability of our natural spaces. The significance of protection is stimulated. The rarely noticed or hidden becomes elevated to the sacred.    
ABOUT THE ARTIST - Linda J. Beeman
Linda J. Beeman is a native of Owosso, Michigan. She studied Art History (theft and forgery) at University of Kansas. While taking many types of art classes over the years, Linda is primarily a self-taught mokuhanga artist, which she now teaches across the U.S. She has been Artist in Residence at Mt. Fuji, Sleeping Bear Dunes National Park and, this year, at Petrified Forest National Park.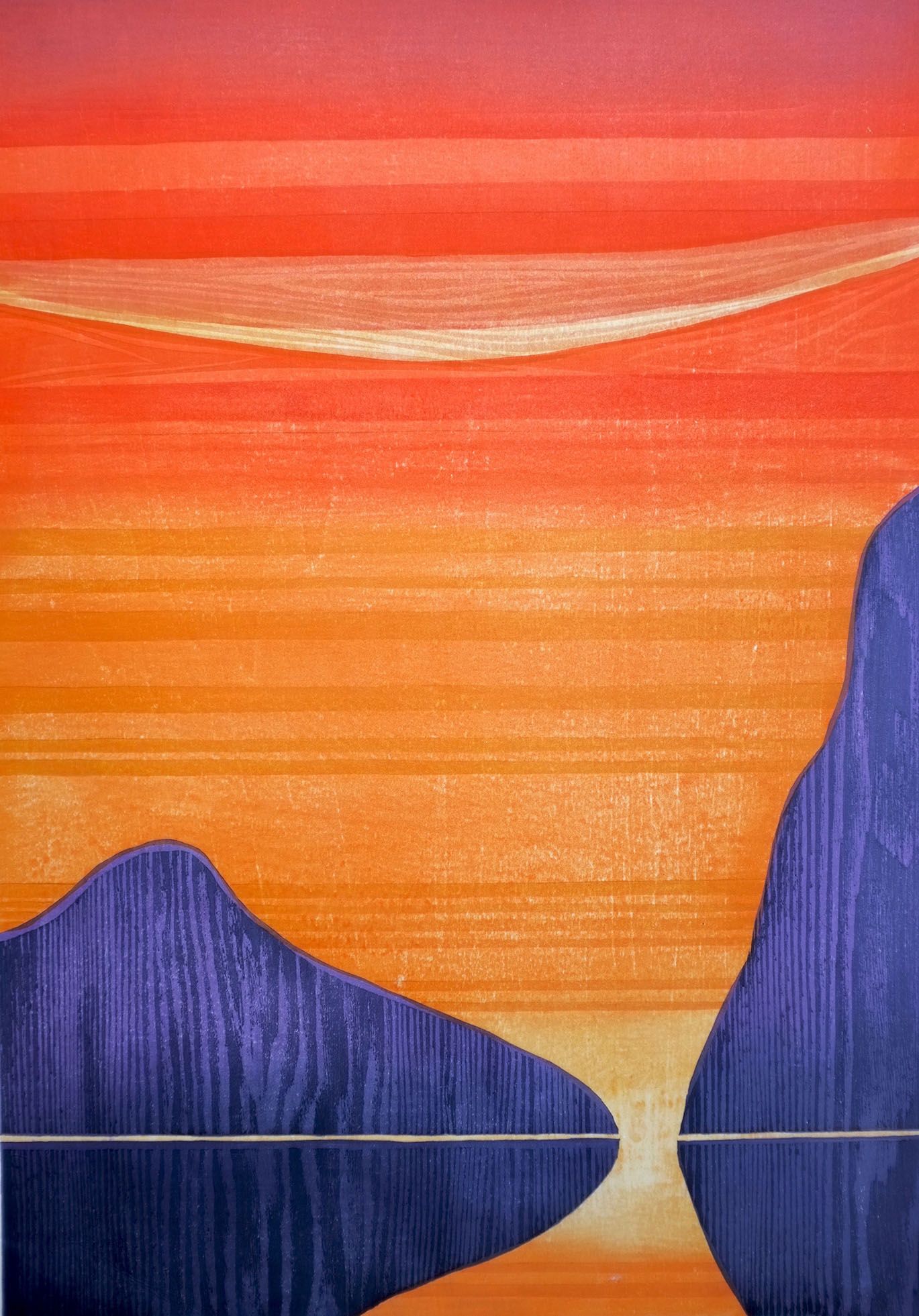 Day Spring
by Lynita Shimizu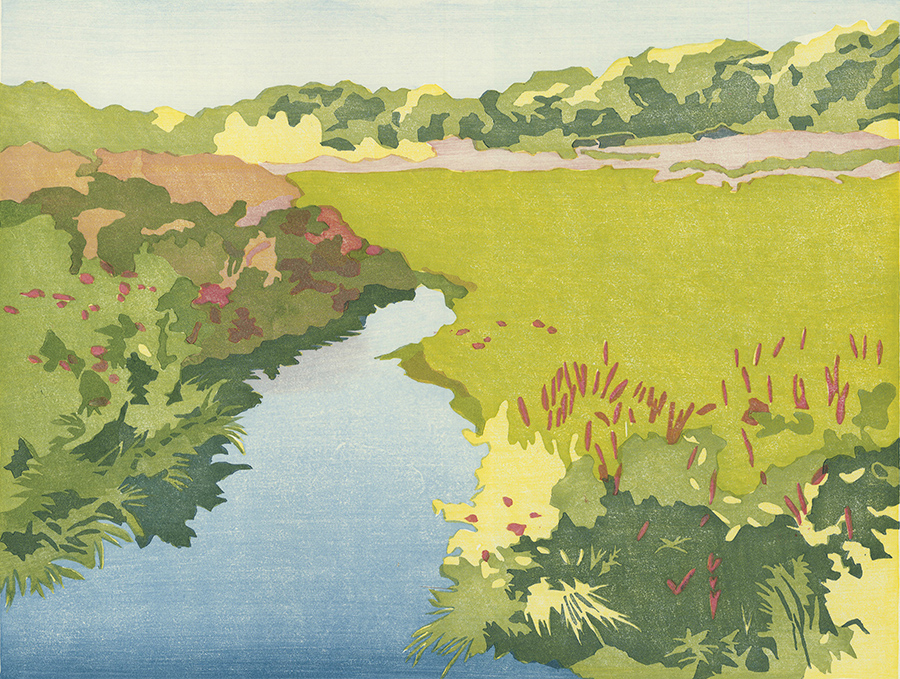 Meadow Quench
by Linda Beeman